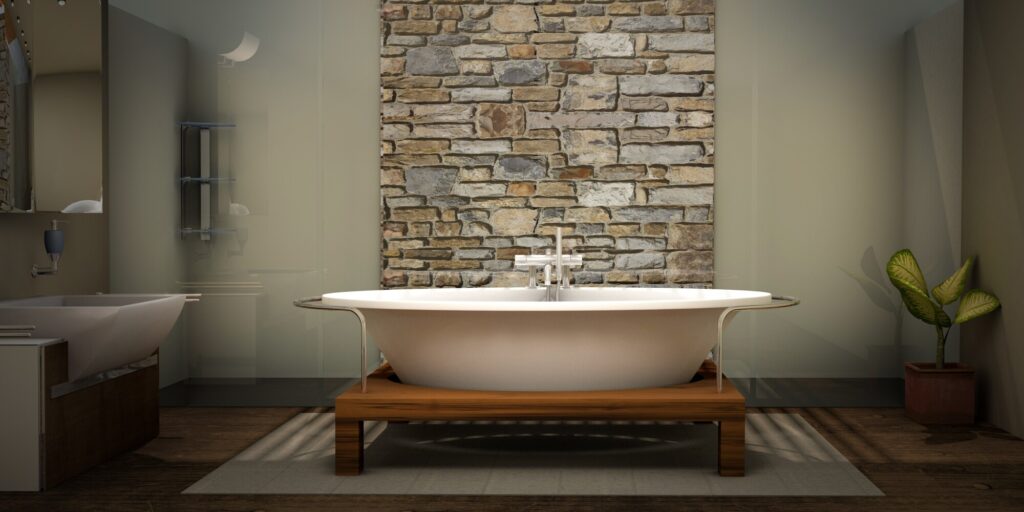 Office Revamp: How to Incorporate Modern Bathroom Designs
What's the most overlooked part of most office designs?
The bathroom.
An ugly bathroom reflects poorly on your business, and it can lower morale among the employees. After all, no one wants to have to visit an uncomfortable, gaudy room multiple times a day. Even if the bathroom functions perfectly, if it looks tacky and old, people will notice.
On the other hand, modern bathroom designs can be a point of pride! Employees will be proud to work with your company, and you can finally feel good about the environment you're presenting.
What does your company's office bathroom look like? If you think it's time for a change, then this article can help! We'll go over some of the best modern bathroom ideas, so that you can make the best choice for your company.
What type of bathroom does your business need? Read on to find out.
Sleek Fixtures and Updated Bathroom Finishes
First, decide what type of finish you like your office bathroom to have. All too often, business owners don't think of the finish until they've already laid out the entire bathroom design. However, it's the finish that's going to give the bathroom its unique touch.
Finishes refer to the faucet and sink style that you'll be using. For instance, will you go with chrome, satin nickel, copper, or matte black finish? Matte black is particularly great for standing out against a white backsplash.
After choosing the finish that'll work best for your theme, you'll need to decide what type of fixtures you want to use. For instance, what size, shape, and material would you like the bathroom sinks to be?
Consider how you'll be mounting the sinks before you make any purchasing decisions. Next, you'll need to decide whether to use a single hole or mono mixer faucet.
Do what feels right. If it's your goal to create a sleek, modern-looking bathroom, then choose the finishes and fixtures that reflect that style. Perhaps you'll use a stylish satin nickel copper finish for a mono mixer faucet. Paired with the right backsplash, your entire theme will come together.
Functional and Fashionable
It's fun daydreaming all of the different decorating schemes for modern bathroom designs. However, you can't forget about the functional basics.
Along with being fashionable, the bathroom has to be well ventilated and adequately lighted. Not to mention, you'll want to make sure the bathroom is comfortable for everyone to use.
Take a moment to consider what type of ventilating fans you'd like to use to replace odorous stale air with fresh air. Consider the size of the bathroom when deciding how many fans you're going to need.
Next, consider using theatrical mirror lighting to help illuminate the bathroom space. By using light-colored walls, and reflective surfaces, you'll be able to brighten up the room with artificial light.
Finally, as far as comfort goes, you'll need to ensure that there's plenty of room between the toilet and the bathroom stall door. There's also enough room on the sides of the individual as they're sitting on the toilet.
Be sure to double-check all of the handicap bathroom requirements as well. For instance, be sure to install adequately fitted grab bars that can hold the right amount of weight.
Enhanced Cleanliness and Office Hygiene
Redesigning your office bathroom gives you the perfect opportunity to make things more hygienic. Keep social distance protocols in mind as you design the sink areas.
Will there be enough sinks for employees to spread out when they're washing their hands? Next, look into using non-porous surfaces. Non-porous surfaces are easier to disinfect and less likely to hold on to nasty germs and bacteria.
Last but not least, for enhanced cleanliness, equip your office bathroom with the latest touchless options. This includes a touchless hand dryer. You'll find sites like https://www.qbicwashrooms.co.uk/hand-dryers/hand-dryer-brands/dyson-hand-dryers.html give you all of the dryer specs you need to know, such as size and weight. That way, you don't mind buying a hand dryer that won't fit in the office bathroom space.
Next, consider using touchless faucet features as well. You could even include a bar on the bathroom door. Instead of touching the door handle, employees can hygienically use their arms to open and close the bathroom door.
Shimmer and Shine
Do you want an office bathroom that shimmers and shines? Then you'll need to look into using metallics! Metallics are chic, trendy and irresistibly shiny. Say goodbye to old dull yellow bathroom colors, and hello to instant class. You'll be able to dazzle your customers and employees alike.
We find that a mosaic tile feature wall can help give your metallic color scheme a modern edge. The wall creates a brilliant effect no matter what time of day it is, as long as you have the proper lighting.
Of course, you could take things one step further by making the office bathroom have a spa appeal. For the classic spa look, you'll want to brighten up the bathroom with even more reflective surfaces.
Along with using a mosaic wall, start looking for large-scale mirrors, and extra bright light bulbs. It's also a good idea to use a polished tile floor since it'll give the bathroom a sense of bright lightness.
Welcoming and Warm
If shimmer and shine are in your thing, then wow employees with a welcoming, warm color scheme! Take a peek at this warm color palette; you'll realize there are many more warm colors than you initially thought.
Yellow, orange, brown, and even the right hue of gold can be welcoming and friendly. In the bathroom area, the gentle colors will help create a soothing environment. When you pair all warm colors with the right accents and accessories, you'll be making a true bathroom oasis.
Creating Your Modern Bathroom Designs
There you have it! Some of the best modern bathroom designs for offices around.
Are you already envisioning how you could transform your office bathroom into a spa-like experience? Does the idea of using metallic colors make you giddy? Since redesigning a bathroom requires having a clear vision from start to finish, start getting specific about what you want today.
Write down what bathroom theme you're going to go with, and then start looking for suitable faucets and finishes to match! For more tips like these, see what the rest of our blog has to say.
About Author