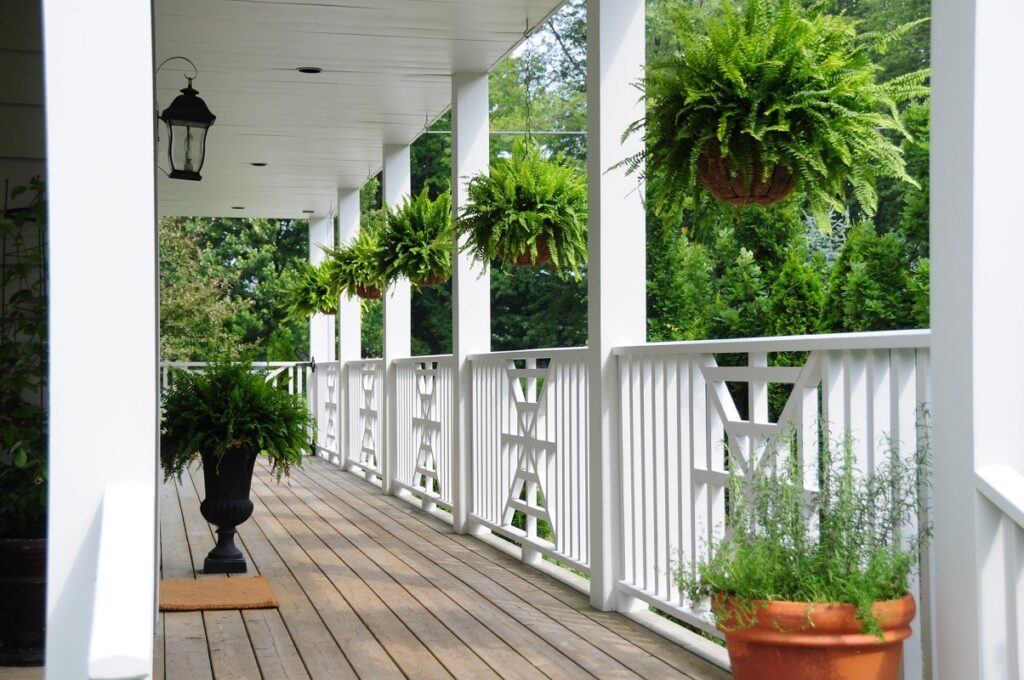 How to Style a Front Porch That Invites: A Homeowner's Guide
Your front porch is the first thing that people see before entering your home. It's either going to invite your guests in or make them wish that they never came over. It's your choice to decide how you're going to make that first impression.
When it comes to decorating the front of your house, you need to think about style, comfort, and function. Because all of these things have to be taken into account, we've decided to create a guide to decorating your front porch styling your front porch in a way that makes your entire home inviting.
If you're looking for front porch ideas that'll knock the socks off of your visitors, just keep reading.
1. Incorporate Seating
Seating is one of the most inviting elements anyone can include on their front porch. It's literally an invitation to sit down and stay awhile.
However, you don't want just any kind of seating. We recommend that you go for seating with natural, earthy tones. Think about incorporating greens and browns.
Also, don't forget cozy seat covers, like these Sunbrella outdoor rocking chair cushions.
2. Bring in the Plants
Your porch is already outside, so it may seem weird to place plants on your porch. Hear us out.
We already discussed placing warm and earthy tones. By pulling these plants on your porch as well, you're bringing the outside onto your porch. It ties the outside of your home together.
As a whole, the cozy yet outdoorsy setup invites your guests inside.
3. Consider Screen Windows
Porch screens are usually only considered for back porches, but they are just as amazing for those who are looking for cozy front porches. If you're looking to host guests on your front porch, you should consider putting in screen windows.
By having this great addition, you'll be able to host people without having to worry about sunburn or bug bites. Plus, you can protect your outdoor furniture and make sure that it stays clean as new for you and your guests to enjoy.
4. Placing a Mudroom
If you're looking for a way to make your front porch feel like an extension of your home, you may want to make a section of your front porch into a mudroom. Porches that have awnings, screens, or another means of protection work great as mudrooms.
All you have to do is place hooks along one of your porch walls. Then, add your jackets, hats, and other accessories. For your shoes, you can place a shoe organizer or use outdoor mats.
5. Heat Things Up
Do you want to have the coziest, most upgraded front porch on the block? Consider installing a fireplace.
Recently, outdoor fireplaces have become extremely popular. They'll keep you toasty while making your front porch stand out like no other.
With a front porch of this grandeur, you may have guests begging to come over.
6. Tile the Floors
If you're looking for a classic look, tiles may be the way to go. It's not for everyone, but a simple yet captive tile can liven up your front porch.
Plus, if you use your front porch often, tile is easier to clean. All you need is a mop to get your front porch clean again. Forget the pressure washer.
We recommend opting for tile that is simple as your earthy-toned furniture should be the star of your porch. If you opt for simple furniture, you should make the tile the star of the show by picking a bolder color or even a fun pattern.
7. Make Everything Cozy
You need pillows and blankets everywhere. If you're looking for the coziest front porch you've ever laid your eyes on, add on as many fluffy elements as you can. Then, layer them for maximum warmth.
If you live up North, all of these are essential. If you live in the South, we recommend opting for fuzzy but not heavy blankets and pillows. These are light enough that you won't sweat but cozy enough that you'll still be comfortable on your own front porch.
Make sure that your porch is covered before adding all of these cozy elements. If you're not interested in a covered porch and you do want all of these cozy things, you need to make sure that you keep an eye on the weather so that your cozy space doesn't become soaked in rainwater.
8. Swing on Your Porch
A porch swing is classic. A porch swing is one of the most inviting pieces of furniture that you can put on your front porch.
In fact, it's so iconic that many movies and television shows use the porch swing as a focal point in their storylines. Usually, the porch swing is a place for family members to tell secrets, comfort one another, and hang out with each other.
Make memories with a porch swing on your porch.
9. Think About Square Footage
As you're thinking about adding all of these elements to your porch, you need to take your porch's square footage into account. If you have too much going on, your front porch will be too busy for you or others to enjoy it.
For those of you looking to decorate smaller porches, you should consider using round furniture and/or raised furniture. For example, you may want to opt for a bar-height, round table as your seating point.
Beyond Your Front Porch
Now that you have the best front porch ideas for decorating the front of your house, we're sure that you're excited to get started. We hope that all of these ideas have triggered your creativity. We know they've got us thinking about what to do with our porches.
We're sure that you're excited to take some of these ideas beyond your front porch as well. Having a cozy yet beautiful home is everyone's dream, and we're sure that you can take these ideas to other areas in your home.
As you're looking for more inspiration, we invite you to check out the rest of our blog where we have content just like this.
About Author