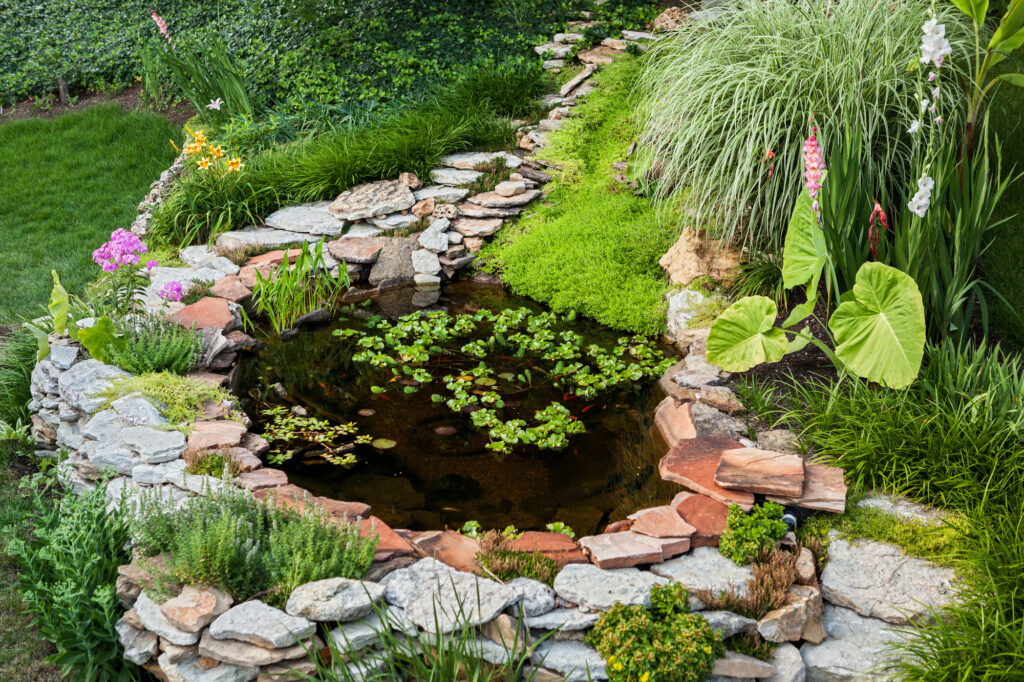 How to Set Up a Garden Pond
Water fixtures are increasingly popular in the modern home, and it's easy to see why just by looking at the numbers! In fact, a pond on your property can increase your home value by anywhere from 5 to 15%. Not bad for a little bit of work!
Ponds are great for ducks, fish, plant life, or aesthetics, but nothing beats a garden pond. Let's talk about how to set one up yourself!
Consider Its Purpose
This part is entirely up to you. Do you want the pond there for decoration? Will it provide a fountain to keep your plants from drying out? Will it have fish, waterfowl, or plant life in it?
These are just a few questions to ask before you get started designing or building your pond. If it's going to have fish in it, leaving it out in the open is probably not the best idea. You'll also want to keep easy access in order to feed your fish regularly. The same will go for ducks or geese. If you want to have plant life growing in the pond, make sure it has enough sunlight.
Consider Its Placement
How big do you want your pond to be? If it's going to be a large pond, plan your outdoor space around it. If it's going to be a smaller pond like a raised garden pond, this can easily be an afterthought.
Do you want it visible from the outside of the garden? If so, plan for that. If you want it to be visible from your yard, your home, or the street, clear anything that will be obstructing it or plan on putting the pond in a visible area. Be sure to choose if you want it in the front or the backyard, too!
Maybe you want it near a patio or a firepit for ambience when you bring guests over. Will it be a small decoration in a large garden? Having it in the center or down the walking trail may be best, in that case, or even building the garden around the pond in a circular fashion! Accompanied landscaping would work wonders toward the overall aesthetic!
What Features Do You Want?
Will your pond be watering the garden? Well, you'll want a fountain or a sprinkler system. Do you want it for decoration? Well, maybe you want a waterfall in the pond!
There are all kinds of options you could put to use in your pond, and they're totally dependent on your goals and your tastes. Maybe you even want a large pond you could swim in! It's totally up to you!
Keep Your Garden Pond Safe
When considering placement, the type of water you use, and what will be in the pond, you need to know how to keep your pond operating safely. If you plan to have fish in the pond, especially expensive koi fish, you will want to keep them safe from predators with proper fencing.
Getting a raised garden pond will prevent some predators, but cats or large birds will have no problem reaching your fish if that's a concern.
Predators aren't the only concern to your fish or even your pond! Contamination is a serious concern for your garden, so make sure you clean it regularly or take steps to prevent this from happening. Consider getting an aerator for your pond to prevent contamination and other issues, down the line.
Choose The Right Liner
There are liners you could easily buy from your favorite hardware or landscaping store. Who knows? You may even find one at Walmart! Do your research on a product before you buy it by simply checking customer reviews.
You may find a $30 liner sitting next to a $100 liner and be tempted to go for the cheaper one. A quick Google search will let you know how reliable they both are and if you should look elsewhere. Once you find it, make sure it's enough to cover the surface area you want.
You may be able to find ones that are made of hard plastic and already shaped, so all you have to do is dig a hole and pack dirt around the bottom of the liner. They are usually made to look like a natural shape or a perfect circle, depending on what you want.
DIY Or Hire Professionals?
If you're looking to just build a small pond, there's no reason you can't do it yourself. Just grab a shovel, a hose, and a $50 liner. From there, spend a Sunday making it happen. However, if you're looking for a larger pond or a professional raised pond, the professionals may need to work their magic! Your shoveling skills are no match for an excavator.
You can always buy fountains, raised ponds, or other pre-made fixtures for your garden that will look intentional and professional. If you want something to look more natural, dig it up yourself and make it look nice!
You don't need to be a landscaping guru to work it out. Put some stones around the edges if you want to add a finishing touch, and that will look great with most naturalist landscapes! If you have a lot of raised garden beds or hanging pots, a raised pond may fit in better. It depends on the look you want to achieve!
Get Digging!
A garden pond should serve whatever purpose you want it to serve, and meet your aesthetic goals. It doesn't have to be too complicated, so just determine your placement, choose your stile, and get to work! Stay up to date with our latest DIY home improvement news, and have fun on your latest projects!
About Author