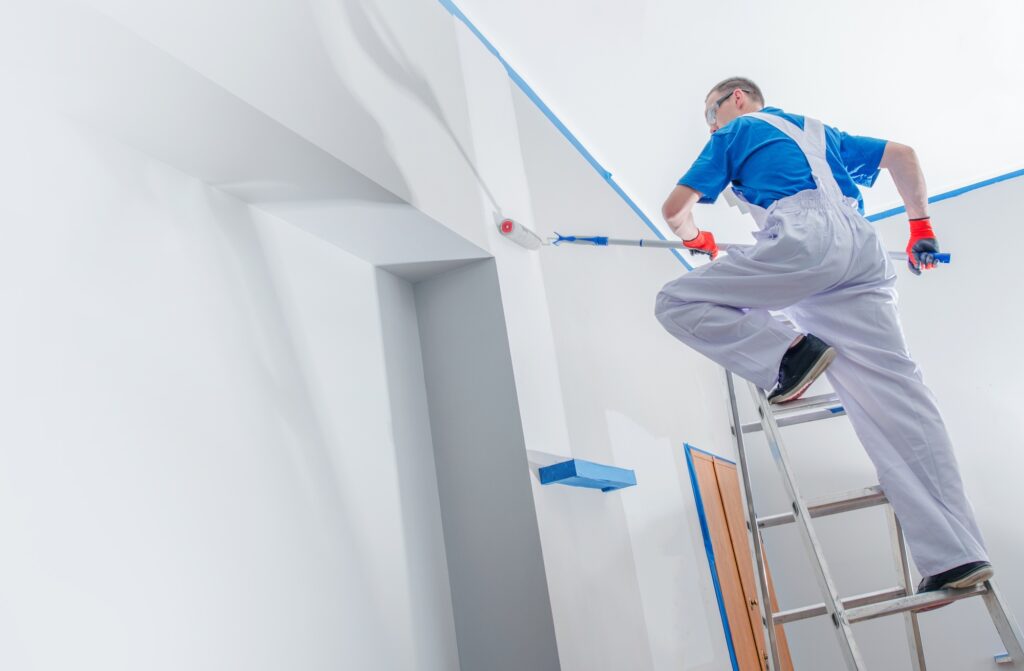 Important Questions to Ask a Commercial Painter Before Hiring Them
Are you looking for a cost-effective means of enhancing the ambiance of your commercial buildings? If so, a fresh coat of paint is all you need.
Getting your commercial buildings painted improves the perception of your business. Besides, a fresh coat of paint prolongs the lifespan of commercial buildings.
Let's be honest: commercial painting is not something we are naturally good at. Without the appropriate skills and training, it would be impossible to deliver top-notch painting results.
Hire a commercial painter to get it right when choosing the best color theme for your office. Using modern tools and technology, a commercial painter will deliver outstanding work with a craftsman's touch.
However, when hiring a commercial painter, be cautious. Not all painting contractors out there are reliable and qualified. If you hire such contractors, you will end up getting frustrated.
To increase your chances of selecting the best commercial painter, you have to ask the right questions. So, do you know the key questions you should ask a commercial painter before hiring them? Worry no more.
Here are the important questions to ask a commercial painter before hiring them.
Are You Insured and Licensed as a Commercial Painter?
Before any commercial painter begins their operations, they must acquire a license from the local authority. The state monitors such licensed painters to ensure they comply with building codes and other regulations.
If you hire such painters, you will have an assurance of quality painting outcomes. Thus, before hiring a commercial painter, ask them to show you their license. After getting their license, visit the Department of Consumer Affairs to validate it.
You should also ask the painter the type of insurance they have. Insurance is not a legal requirement; however, it's a crucial element that you cannot ignore.
It offers protection in case an accident occurs during the painting project. Otherwise, you might be liable for compensation if you hire a commercial painter without insurance.
Ensure the local painter has general liability insurance and workman's comp insurance. The general liability cover will compensate for any damages accidentally caused to your building.
The works comp cover will compensate for any injuries caused to the contractor's employees.
Do You Hire Subcontractors?
You must enquire whether subcontractors will be involved during the painting process. Subcontractors are usually cheaper to hire than company employees. This is because subcontractors receive a flat fee.
Some commercial painters will hire subcontractors to cut down the cost. Hiring subcontractors is not wrong; however, some risks are involved.
With subcontractors getting a flat fee, they might be tempted to cut corners to have the job completed quickly. A commercial painter might be tempted to go for the cheapest subcontractors to save money in some instances.
Besides, subcontractors might not have the right insurance. If such subcontractors were to work on your property, it might impact the quality of work and safety.
Therefore, it's recommended you hire a professional painter whose workers are true employees.
What Kind of Material Do You Use?
The kind of material used on your painting project will impact the appearance of your building and its life span. Thus, before hiring a commercial painter, you must ask what paints and stains they use.
Not all types of paints out there are durable. Some might just peel off after a few months. Therefore, check the brands used by the painter for both indoor and outdoor surfaces.
Ensure to ask them why they prefer using certain products and brands. Search the brands and products on the internet to determine their cost and reputation.
If the products and brands a commercial painter uses have a good reputation, they might be worth trusting with your painting project.
Do You Provide a Free Estimate?
When painting your commercial buildings, definitely there is a budget that you want to stick to. By getting an estimate from a painter, you can determine whether the estimate is in line with your budget.
If the estimate favors your budget, ensure to ask the painter what is included in it. A painter must include information on prep work, the anticipated amount of paint, and other additional supplies in the estimate.
However, if the painter gives the estimate through the phone, it might be inaccurate. The best painter should have the painting requirements of your building determined before coming up with an estimate.
But be warned of painters charging fees far below the market rate. They are either inexperienced or offer shoddy services.
What Kind of Painting Prep Do You Do?
The type of painting prep done varies from one commercial painter to the next. Some will handle wall sanding and move furniture as part of painting prep, while others might just handle wall sanding only.
You will have to move and cover furniture independently in such a case. The more painting prep a commercial painter handles, the less stress you face during the painting project.
Thus, ask the painter what kind of painting prep they do and whether the costs shall be included in the estimate.
Do You Offer a Workmanship Warranty?
Even the most experienced commercial painters might make mistakes during a painting project. If such errors lead to the paint peeling off sooner after application, a redo might be required.
A commercial painting contractor who takes pride in their work will always offer a warranty. The warranty will ensure any repairs arising due to the painter's mistake are done at zero cost.
However, after choosing a commercial painter, ensure to have the warranty in writing. This will make it enforceable in the future.
Choose the Best Commercial Painter Today
Finding a commercial painter offering quality services to match your needs and budget is challenging. But by asking the right questions, selecting a commercial painter whose services offer the best value for your money becomes easy.
Ask the above questions before hiring a commercial painter and increase your chances of choosing the best.
Did you find the content in this article helpful? Keep an eye on our website to get such informative articles.
About Author