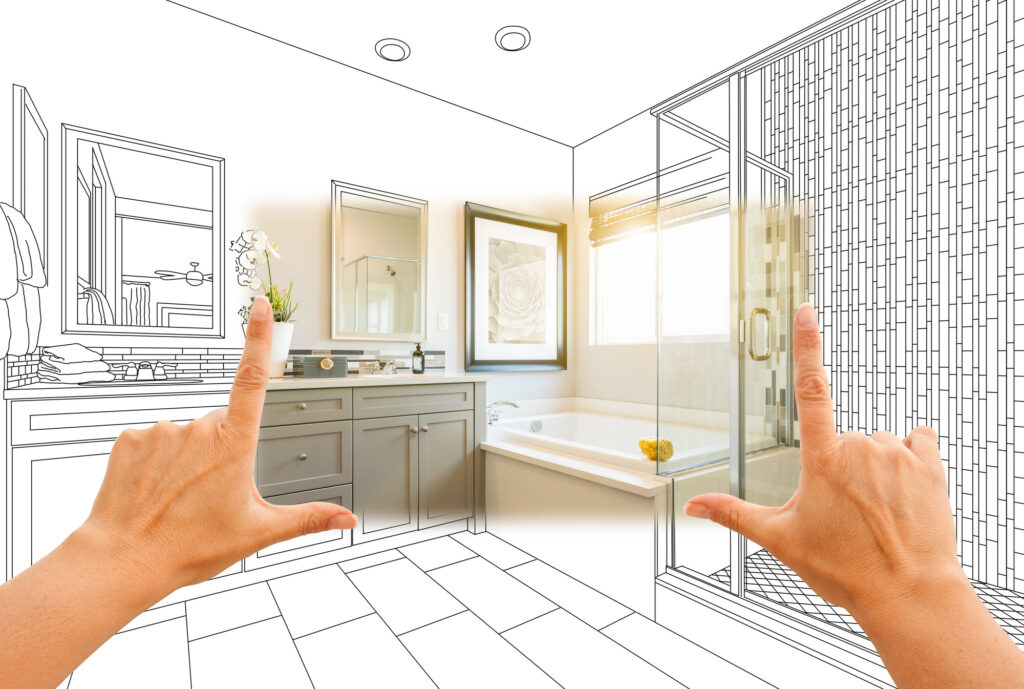 How Much Does a Bathroom Remodel Cost?
Has one of the bathrooms in your home seen better days? If so, you might be wondering, "How much does it cost to remodel a bathroom?", right now.
It's a little bit difficult to say exactly how much a bathroom remodel is going to run you. The average bathroom remodel cost typically falls somewhere between $10,000 and $15,000. But your bathroom renovation could end up costing well over $30,000 in some cases depending on how high-end you want it to be.
There are also a lot of other factors that are going to help determine your bathroom remodel cost. You're going to want to keep each and every one of them in mind when you're trying to answer the question, "How much does a bathroom renovation cost?"
Check out some of the factors that are going to have an impact on the price that you'll pay to have one of your bathrooms remodeled below.
The Extent of Your Bathroom Remodel
When you first decide that you're going to tackle a bathroom remodel, it's a good idea to try and identify how big of a remodel you're going to do. This will help you gauge what your bathroom remodel cost is going to be.
Are you going to rip everything out of your bathroom and start over from scratch? Then you're obviously going to need to be prepared to shoulder a relatively high bathroom remodel cost.
Are you going to leave most of the things in your bathroom alone and just focus on changing something like the floors? Then you might be able to get away with spending a lot less money while still improving your bathroom space.
Regardless of which side of the fence you fall on, you should have a very clear idea of what approach you're going to take to your bathroom remodel. It'll help you come up with a ballpark figure as far as what you're going to spend to fix your bathroom up.
The Size of Your Bathroom
Once you know how big your bathroom remodel project is going to be, the next thing you'll want to consider when it comes to your bathroom remodel cost is the size of your actual bathroom. The bigger that your bathroom is, the more money you're going to have to expect to pay out to remodel it.
There are some people who have very small bathrooms that are only 30 or 40 square feet. There are others who have bathrooms that are well over 100 square feet. You should measure your bathroom to see how big it is prior to taking on a bathroom remodel.
One of the first things that a bathroom remodeling company is going to ask you when you call on them to remodel a bathroom space for you is, "How big is your bathroom?" You want to be able to give them an answer so that they can calculate an accurate estimate for their services for you.
The Bathroom Remodeling Company You Hire
If your goal is to spend as little money as possible when remodeling a bathroom, you might want to try and take it on yourself. If you're the least bit handy, you should be able to pull off a bathroom renovation in your own home.
But with that being said, a bathroom remodel isn't going to be a walk in the park. Since there will usually be at least some plumbing and electrical work that will need to be done, you'll often be better off leaving a bathroom remodeling job to the professionals.
The good news is that there is no shortage of remodeling companies in this country right now. There are well over 400,000 remodeling companies scattered all across the country.
Your job is going to be to find the one that's going to offer the best services and prices to you. You're going to want to search for remodeling companies in your area and look for the ones that have a wealth of experience and the remodeling services that you need.
Once you have a bunch of remodeling companies picked out, you should then try to get quotes from each of them based on what you want to do to your bathroom. This will make it easier for you to find a remodeling company that you can afford.
Ideally, you want to end up working with someone like this company. They'll be capable of providing you with the services that you need in your home without breaking the bank.
The Materials You Use During Your Bathroom Remodel
When you're carrying out a bathroom remodel, you're going to have to pick out all kinds of materials that you'll use in the updated space. As you might imagine, the possibilities will be pretty much endless with regards to the types of materials that you can use.
You're going to need to select new plumbing fixtures for the space. You're also going to need to decide on things like:
Cabinetry
Countertops
Floors
Light fixtures
Hardware
And while you're picking these things out, you're going to see your final bill go up and up and up some more! It's very easy to get out of control and send your bathroom remodel cost skyrocketing.
You should be mindful of this while choosing the materials that you're going to use for your bathroom remodel. Each and every item that you pick to put into your new bathroom space is going to have a big impact on the price that you pay for your new bathroom in the end.
It's smart to set up a budget for the materials that you're going to use in your bathroom and stick to it. You should be able to save yourself some money in the long run by picking and choosing which materials you want to spend more money on and which you want to scale back on in terms of spending.
The Unexpected Surprises That Pop Up Throughout Your Bathroom Remodel
There are, unfortunately, going to be some surprises that pop up along the way when you're in the midst of doing a bathroom remodel. This kind of just comes with the territory when you're renovating a bathroom space.
You're going to discover that a plumbing pipe back behind one of your walls has been leaking for months now and allowing mold to grow. Or you're going to find that a part of your subfloor has rotted away because of a crack in your tile flooring.
As a general rule of thumb, it's good for homeowners to plan ahead for these surprises so that they're not so surprising. You should pad your bathroom remodel budget just a bit so that you have some extra money to spend on unexpected repairs that will no doubt rear their ugly heads at some point.
If you don't plan for surprises, they're going to catch you off guard and make your bathroom remodel more expensive than it should be. By reworking your budget to account for any surprises that might pop up, you'll sleep better at night knowing that you're not going to blow your budget out of the water before everything is all said and done.
The Timeline of Your Bathroom Remodel
Are you OK with your bathroom remodel taking as long as it has to? Or do you absolutely need your bathroom remodel to be done by a certain day?
If you fall into the first category, you shouldn't have to worry about the timeline of your bathroom remodel affecting the bathroom remodel cost too much. But if you're in a huge hurry to wrap your remodeling job up sooner than later, it could increase your bathroom remodel cost just a bit.
Most bathroom remodeling companies will be more than happy to work with whatever timeline that you give them. But the sooner that you need to have your bathroom finished, the harder they're going to have to work to get the job done. And when they have to put in overtime to finish your bathroom, it's going to lead to you paying more to remodel your bathroom.
Make sure you remember this when you're working out the timeline for your bathroom remodel. You might want to take on a renovation at a time when you know you don't need to rush to avoid any extra costs.
What Will Your Bathroom Remodel Cost? It All Depends on These Factors
As you can see, trying to work out the bathroom remodel cost is harder than it might seem. There are so many factors that you'll have to consider when working out a price.
The best way to find out what a bathroom remodel is going to run you is by contacting a few remodeling companies in your area. They can take a look at your bathroom and decide what they're going to charge you to fix your bathroom space up. It'll help you get the best price possible on a bathroom remodel.
Read more helpful articles about remodeling your home by browsing through the other posts found on our blog.
About Author